"The 64" is an indiegogo campaign setup by Retro Games Ltd to launch a brand new system, in both portable and desktop form based around the Commodore 64. Aesthetically it has very similar styling, with a trimmed down case. The 64SX is much lighter than the Commdore 64SX original machine and compliments the desktop as a handheld variant. It's claimed the systems will incorporate multiple SID chips and have cartridge functionality, as well as SD and USB connectivity for game images. Looks like it could be pretty interesting if it comes to fruition and doesn't end up like the Coleco Chameleon!
Extract from video on The 64
"Here's the Indie Go Go campaign video, and you may notice that there's a degree of secrecy behind the backers of this campaign. Not entirely sure why that is.
We know Darren Melbourne is involved, and a recent update on the campaign page tells us that Andreas Wallstrom is now on board as the publishing director. He's from the demo group Flash inc, has been in some retro bands including SID'80s and has been the webmaster of C64.COM for over 10 years.
The company behind the campaign are Retro Games Ltd (not to be confused with Retro Computers Ltd behind the Spectrum Vega), and a quick search on companies house also reveals what appears to be Paul Andrews, founder of the gaming hub Retro-Trader. Paul Gouge who was behind Rockpool Games, and Christopher David Smith, who wrote the "How to Design a Microcomputer" ZX Spectrum book.
Alongside the desktop machine, the campaign is also promoting The 64SX… a rather cool looking handheld version, in a similar vein to the recently funded ZX Spectrum Vega Plus console. The SX is a nod back to the Commodore 64 SX… a "Portable" version of the commodore 64, which weighed about a tonne. Of the two machine, I'm probably most interested in the handheld, mainly because it offers something which I can't get from my actual Commodore 64.
It's claimed the machines will come pre-loaded with some classic games, alongside some brand new ones. I presume we can then shove in other games via. the USB.
The company don't actually have the rights to the Commodore name, hence why it's simply called "The 64", but they have licenced the ROMS and BIOS from the holders, Cloanto Inc..
As I mentioned, tech specs currently claim multiple SIDs, HDMI output, 512mb writable cartridge support, an official joystick (which is available through backing) and support for many emulator file formats. Now, from the sounds of this, this sounds like real chips and hard circuitry, over emulation, but we shall see.
The campaign also mentions they have working prototypes ongoing, but there's no sign of them whatso-ever at this stage. Hopefully this won't turn out to be another Cameleon situation.
$150 dollars backing will get you the machine when it launches, or £170 will get you the handheld version. So if you fancy it, pop on over and judge yourself."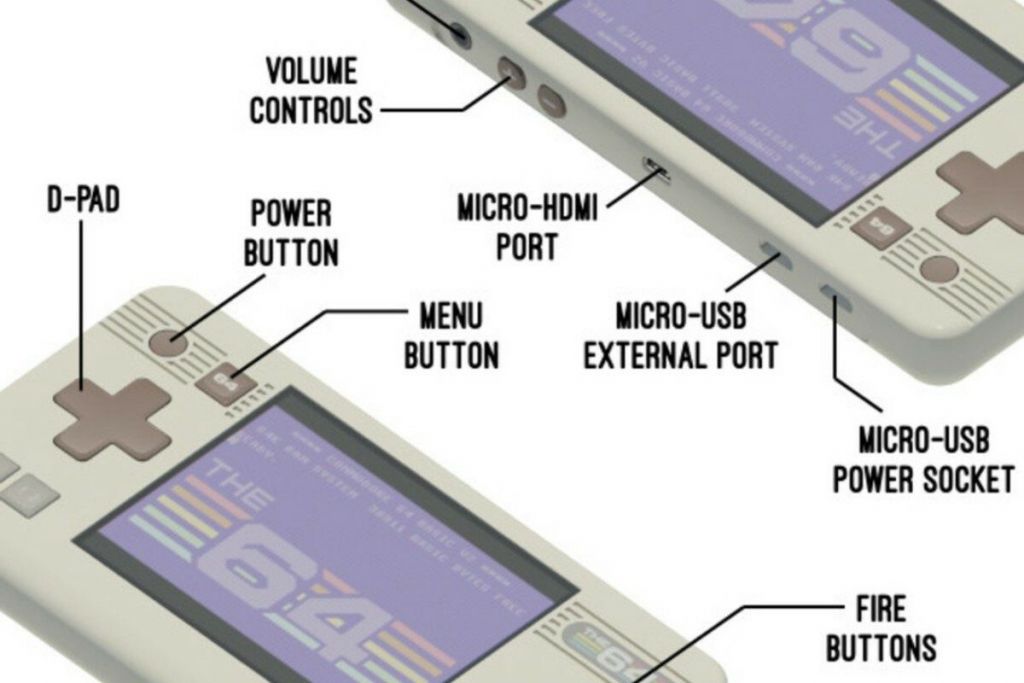 The text blow is sourced from boingboing.net
The 64 is a crowdfunded rebuild of the classic Commodore 64, to ship with an as-yet-unannounced collection of games and software from the beloved gaming platform.
The UK-based team behind The 64 are promising to ship both a desktop version (in the original C64 form-factor, essentially a chunky keyboard with video-out ports) and handheld version (shaped like a Gameboy, more or less), at $150 and $170, respectively, with lots of fun perks in the mix.

The team has kept itself weirdly mysterious, for reasons that are hard to understand, as they seem fairly experienced in the field. As far as I could locate, they don't divulge most of their identities, though a check on their corporate registry shows that their number includes a moderately successful gaming entrepreneur and a respected technical author, as wellDarren Melbourne, who is named in their promotions, as the guy who "conceptualized and bought to market the C64DTV console as well as dozens of other game related products during a video games career that has spanned over thirty years" — he certainly does a long and honorable history with the platform.

The prices are relatively low, so you won't lose much if the team doesn't perform. I'd feel better about putting my own money down if the team were more forthcoming about their specific manufacturing experience and how it applies to fulfilling orders. That said, it's a really cool-looking product, and at that price, it may be worth the risk to you.

I'm pretty sure they won't try to trick you into carving a full-sized replica C64 out of tropical hardwood, in any event.

We are exploring various manufacturing and distribution options to ensure global deliveries directly to backers. We have set the currency of this campaign in USA Dollars, but THE 64 ™ is truly a globally loved computer, and we are aiming to set up region specific delivery and distribution options for our backers. So for example if you live in the USA you're THE 64 ™ will be delivered from the USA, directly to you.

Following our initial production run for those of you who choose one of the various THE 64 ™ console perks in this campaign, we hope to launch to retail after fulfilling backers THE 64 ™ consoles. Everyone who has pledged in this campaign will receive updates over the coming months, telling them about our progress through the various stages of design, and manufacture through to final delivery to you all. Your support and funding will help us to make the launch of THE 64 ™ range of consoles a reality. By backing this campaign you will become one of the first people in the world to own a THE 64 ™ Console!
Source: Crowdfunding new Commodore 64s, desktop and handheld / Boing Boing