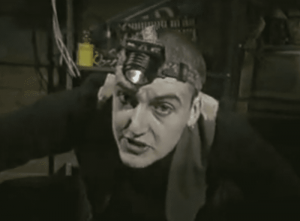 Welcome to Bad Influence – The only place where you'll see moving screen shots of the latest games! – Andy Crane, introduction, Series 1, Episode 1.
Bad Influence was an ITV (a Terrestrial station in the UK) gaming and technology programme during the early to mid 1990s. It was aimed at children and was shown in the late afternoon. I remember massively looking forward to watching it, after crawling back from school on Thursdays (I think it was a Thursday, although don't quote me on it!…. it was 20 years ago!). It was one of the first dedicated gaming and entertainment shows, kicking off during the booming 16-bit era, alongside Gamesmaster which aired on Channel 4 at around the same period in time. Series 2 captured the emerging 32-bit consoles such as the 3DO and Atari Jaguar, whilst towards the end of the show's cycle, things had moved onto 32-bit consoles such as the Playstation & Saturn. The PC was also finding it's ground in the gaming markets.
The show's name was derived from the fact that many people still considered video games to be a "Bad Influence" on the youngsters of the day (I see no proof *retreats to the corner, shaking*). The show itself, was only about 25 minutes long, but it was captivating and compelling stuff. For me, it was utterly absorbing to look at the latest consoles and technology coming out, whilst hoping there would be a game review for the Sega Master System, which I proudly owned at the time (during series 1 at least, before moving onto a much more mainstream Mega Drive!) – sadly the Master System wasn't served very well in the media. At the very least, the show was great for drafting up an extensive Christmas list of electronic equipment -far to expensive for my parents to even consider buying at the time, I'm sure! It helped that the series ran over the Christmas period each year – which I also think adds to the nostalgia of the programme.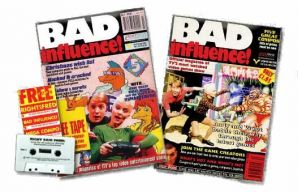 There was also an associated monthly magazine (along with the many, many others available at the time), which only ran for a couple of issues. It didn't fare well as the market was already saturated with specialist magazines. Kids of the day, opted instead to buy a magazine which was specific to their system (Such as Sega Power, or Mean Machines Sega), rather than a generic volume, covering all systems.
The show aired from 1992-1996, although by series 4, I'd moved on to other things. a) Because the series went downhill at series 4 and b) Because I must have found other things to do at the time (I have no idea what?!). But there was still nothing quite like sitting back and relaxing in front of the show from series 1 to 3.
The Presenters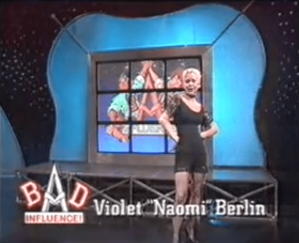 The show was mainly presented by Andy Crane and Violet Berlin (come on, admit you had a crush on her), with "Nam Rood" (Played by Andy Wear) taking over a few minutes each week for the cheats & tips section – Remember when cheats were all the rage, before saving your game became common place?! (You probably noticed that Nam Rood is Door Man backwards).
Violet Berlin was a enthusiastic gamer herself, and had originally applied to be just a researcher for the show, whilst Andy Crane, from Broom Cupboard fame, was drafted as he was interested in computers and was available at the time. Other presenters joined the show, such as Sonya Saul (series 4) and Z (That's Zee, not Zed) Right, who was their American correspondent. However the best presenting combination was clearly Violet and Andy. There's an interview with Violet and Andy on this dedicated website!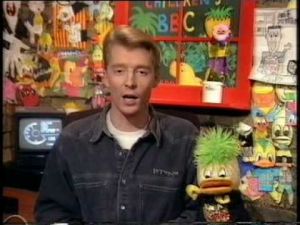 Violet Berlin currently runs Whizz Bang TV with her husband Gareth Jones who was also on 90's children's TV programmes such as How2.
After Bad Influence, Andy presented What's Up Doc and of note, appeared in Banzai, the crazy comedy game show thing (BaaaaannnnnZaaaaaiiiiii!), which appeared for a while and then disappeared again, with no one any the wiser as to what just happened. Andy Crane currently presents an early morning show on Radio Manchester.
The DataBlast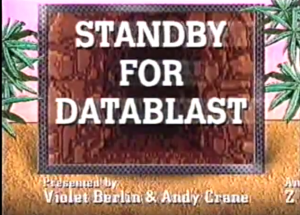 The end of each show (in series 1 and 2), featured a "Data Blast" where a stream of text was rapidly displayed on concurrent slides. If you had remembered to record the show (on trusty VHS), you could replay the DataBlast section using pause and frame advance to read the information. Remember this was before the Internet was common place, and the only other source of information was expensive monthly magazines!
At the time, I seem to remember the pause function on my parent's video recorder, being pretty "choppy" to say the least. So trying to read it was a little like reading something whilst having a fit.
Reviews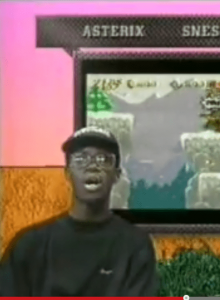 For me, one of the funniest sections were the game reviews. The "reviewers", who were just a bunch of children & teenagers (probably offspring of the production team), and seemed to be the most thrown together and random selection of game reviewers you were ever likely to come across. Indeed, for this reason, some of their summaries were absolute gold dust.
One which stood out for me, was this chap, Adam. This is a still from Series 2 where he reviewed Asterix on the SNES, with dead pan comical effect. He doesn't beat about the bush, he gives his opinion plainly and generally seems enthusiastic, but at the same time like he absolutely couldn't give a shit. I find it hilarious, even to this day. Take a look at the episode, with the review starting at 3:12.
The Shows
Rather handily, and thankfully, some kind fellow has uploaded every single episode of Bad Influence onto YouTube. The quality isn't fantastic and they're ripped from VHS (as you'll notice with various artefacts, and tearing issues), but for me, that just makes the experience that little bit more authentic! For me series 1 & 2, were the best, probably with the latter pipping the post, but check them out, starting with series 1 below;