Ahhh, it's November, so that means one thing…. it's the season of Christmas catalogues. At least, it used to be for me…. well, actually, it used to start a good few months before now. Usually the Christmas editions of catalogues like Littlewoods, Grattan, Great Universal, Argos and Index (not to mention the sheer excitement of Toys 'R' Us or Dixons catalogues) used to arrive sometime in the late summer months (although I'm sure it got earlier and earlier in the year), remember this was before Amazon, ebay or any of that nonsense. As soon as those beauties landed, I would grab a pen, some paper and begin writing the first epic scroll of what would become draft #1 of my Christmas list. This list would go through many, many iterations before a final list could be presented for review to parents, relatives, Father Christmas look-a-likes, etc… But the sheer excitement of writing these lists and staring at pictures in those catalogues, for literally hours of end never dwindled. It was almost an obsession. Game boys leapt out of the pages, with their multiple accessories and attachments… which ones would be best? what games would be best? Maybe a Master System would be a better option? But what about games? There would need to be some sort of co-ordination with relatives to make sure that they purchased games for the console I was hoping to receive. It was all very complicated, but for them, even more so…. could they pull it off? Only time would tell.
Although it was exciting, it was also quite a stressful time. All those decisions, all those lists, that co-coordinating, not knowing how much I could allocate for a present….. it was knackering. The latter concern over cost even lead me to write a priority of items, each one gradually depreciating in price. The problem with this was, if the main present wasn't the first priority, then subsequent presents from other people would also have to relate to the main product. As you can tell, I liked to at least try and dictate the presents I would be receiving.
Looking Back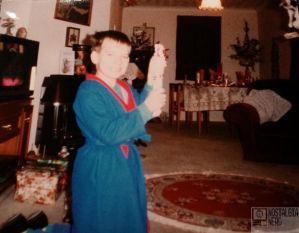 Now in hindsight, this is clearly at a time, when my little mind couldn't quite comprehend the fact that there were people around the world who wouldn't be receiving presents, who wouldn't even be receiving food; it was all very materialistic. But at the time it was incredibly exciting and the memories in my mind remain incredibly nostalgic.
So with all this excitement, it seems appropriate to track down some catalogue excerpts and present to you some key pages, that I consider incredibly festive & nostalgic. Even now, I could get lost in these product pages. I can't imagine it's the same in our current day & age, especially with the onslaught of digital and the internet. Now, you can look things up on a whim – without waiting for the latest catalogues. There's no page folding needed, no pen marking and even the lists themselves can be digital, so you don't have multiple copies, decorated with festive felt tip pen drawn decorations around the edges. What ever happened to the Christmas we knew and loved? Well, we grew up, that's what. But this is about nostalgia, and that nostalgia will always remain, especially near Christmas. In fact for me (and yes, that's me in the photo, sometime in the late 80s or early 90s on Christmas day), the nostalgia isn't directly a result of these catalogues or the presents. It's nostalgia associated with the time & what was happening at that time; spending time at home, with family, seeing friends and having a great-a-time as any child could. The point is, things like these catalogues offer a window back to that, a glimpse of the past, a moment in time, and that is one reason for (me at least) appreciating them to this day. So, then, without much further ado, onto the products!….
Catalogue Excerpts
1990!
Bask, if you will, for a few moments in this personal computer inspired nostalgia. Direct from the Grattan 1990 Autumn/Winter Catalogue;
That's right, we have a Commodore 64, at a reasonably priced £179.99 (remember this is a home catalogue – it's overpriced!), next to similar specified offerings from Sinclair & Amstrad. Then BOOM, top left, we have the 16-bit Amiga 500 at a whopping £499.99! If you got that for Christmas in 1990 (or anytime before), then you were one lucky boy/girl!
1981
Jumping back to 1981, computing & electronic equipment is a little light on the ground, but I sure as hell would have loved to receive Dark Tower on Christmas morning, regardless of the fact that I wasn't born for another year or so.
And that Monkey Business Watch Game looks absolutely immense. Has anyone still got one?! Let me know in the comments… please!
1992
Whoah! We've jumped back to the 90's, and what the hell is that I see?? That's right, it's a bloody Atari 2600 (although in it's new smaller plasticy guise & with a 32 in 1 cartridge!.. Ah, a re-release, one of those). What the muff is that doing in the 90s? Only the god of gaming knows. Anyway, there it is, plonked next to the rather splendid Lynx – that would have been a good Christmas present! One thing I remember seeing clearly is that MY P.A.L. 2 robot… I really wanted it… I have no idea why… I must have been too old, surely? But, then again, it does throw hoops. Hmmmm, maybe I saw it in previous year, anyway, moving on.
And check out those Tiger handheld games…. Absolute power in the handheld form. For only… WHAT? £18.50 each!? Christ, I forgot how utterly expensive those things were. My word.
1996
It's time to go back… Back Where?….. Back to 1996. Or forward, from 1992, either way. Here's the 1996 Beaties Christmas Catalogue showing the Playstation, The Gameboy Pocket and detailing their "Virtual Reality Department"…WTF.. Anyone?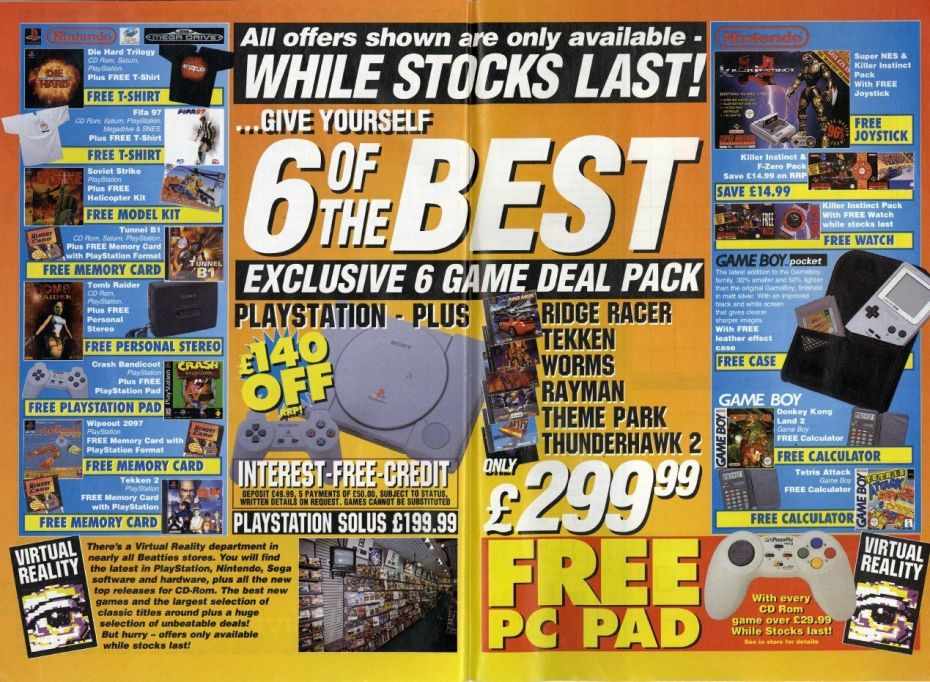 1959
And finally, these featured extracts are way before my time, but just check out that castle! I'm not entirely convinced by the dressing up outfits, but hey! It's the 50's. Nice Tommy Gun though.
So, now you've got a few options; You can get outta here, root out some old catalogues of your own and simply bask in the nostalgia. You can watch me flick through a 1995 index catalogue on YouTube. Or, I've put together plenty more nostalgia in the following slides for you to peruse at leisure. Lots of electronica, computing, as well as a few train sets and general Christmas inspired nostalgia. Sit back, put the kettle on and enjoy!….
Perusing an Index Catalogue from Christmas 1995
First, it's me and an Index catalogue…
More Pages!
Navigate the slides with the left and right arrows (I'll be adding more here on a regular basis);
[SlideDeck2 id=565]