Watch the Video
With both Amiga and Atari ST done, it's time for DOS Games, and once again, I list my Top 7 MS-DOS Games, based from my gradually fading memory of time spent within each game. DOS holds a very special place in my nostalgic mind, mainly for the hours I poured into getting games to work with config.sys and autoexec.bat and all the subtle nuances involved with base memory and drivers. It was sheer, sheer, exhaustive FUN (from my perspective at least), and it made getting the game to run that much more of an adventure in itself. So without further ado…
Continuing my series of Top 7 Games, I felt it was time to take a dive into the world of IBM Compatible PCs, and more importantly MS-DOS based games.
DOS is a particular favourite operating system of mine. DOS 6.22, coupled with Windows 3.11 for Workgroups was the first operating system combination I truly acquainted myself with. It came pre-installed on my 486DX2-50 back in the Christmas of 1995, and given that I've been using x86 architecture PCs from that day since, it's evident that the platform appealed to me.
So it follows that there's a whole lotta DOS games which I loved and indeed, still love to this day, so this list definitely wasn't the easiest to make. However, I've come up with a winning formula; essentially it's based on how much time I poured into each game. Obviously I didn't catalogue this through my youth, so it's a gut feel, but it feels about right. Just be sure to keep your eyes peeled for several other Top 7 DOS games in the near future.
Tex Murphy: Under a Killing Moon
This isn't my normal game type. Usually I find the point and click genre far too slow paced and frustrating to get into. But there was something about this game which immediately took me. Maybe it was James Earl Junior's voice introduction, maybe it was the tongue in cheek scenes by Chris Jones, maybe it was the blocky first person investigation scenes.
I think, in reality, it was a combination of all of these factors. Plus I've always had a keen interest in investigation. In any case, I loved this game, I loved the strange conversations with the tabloid seller and the voice over cues from Tex. LA Noire stand aside, you ain't beating this one.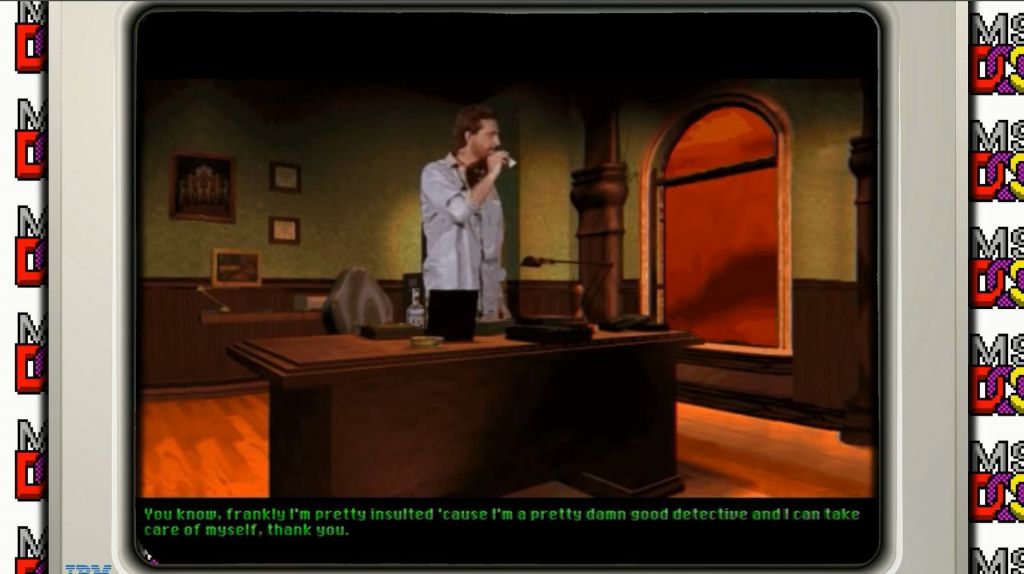 Z
Take robots, tanks, strategy and networkable multi-player and you have ZED (not Zee). It's very much a command and conquer style game where you have to guide your respective team of robots to dominance of a particular landscape. You do this by taking on the rival team of robots who start out with a base at the other end of the map.
Through building manufacturing units to create ever bigger tanks and infantry, you slowly build up enough forces to wipe out your opposition, take base camps and ultimately storm the enemies fortress.
This is strategy in such a pure form that it's utterly enjoyable.